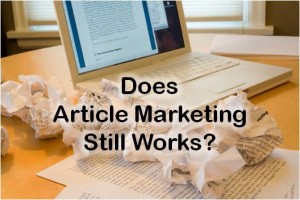 In this appointment on Content Marketing, we shall touch on the topic about article marketing. Article marketing has always been the most effective way to promote our online business, whether it is big or small. But in many newbie's mind, "does article marketing still work?" still pops up in their head.
How Does Article Marketing Work?
First, let's understand how article marketing works.
Once an article is written, it is posted into your website. When someone visit your website and read the article, if he likes what he has read, he will share with his friends or publish it in his newsletters or websites.
The important thing is that you want your article to spread like a virus, attaching to every site it can. This can make many things happen for your business. As you know, the article provides a back link to your website. This can help with search engine optimization. Since your article will have your resource box located at the bottom, it will add a great deal of exposure and traffic to your website.
Other than that, article marketing will accomplish other things as well, which is also very important to our online business today. First of all, writing and distributing articles makes you an expert in the field, or topic in question. Secondly, they can serve as building blocks with the readers of your articles, in turn building trust.
Does Article Marketing Work for Me?
If you have not figured it out yet, article marketing works. It is a fact that this holds true till this day and will continue to be true for many years to come. The problem is that many newbies tend to believe that article marketing is more difficult than it really is. If you have never tried it, these kinds of reactions are normal.
The first thing you have to do is write an article about 300 to 500 words. Remember, the article has to be informative and helpful. Do not make it as a sales page. Make sure it is related to your niche and stays on topic. Your intention is to get the readers to visit your website.
You can provide a resource box at the end of your article. This is simply information about the author and usually contains a link to the author's website. It can also contain a link for reader's to subscribe to the newsletter and maybe even an email address to contact the author.
Below the resource box, you type a statement giving others the right to reprint the article for free as long as the article remains unchanged. Your resource box must also stay intact. These guidelines have to be followed. This gives permission to others to make your article viral for you.
For the resource box, I don't see many internet marketers use them in their website except when they submit their article to article directories or ezine publishers so it is up to you.
Once you have posted your article, share it to the most popular social media networks within your niche like Twitter, Google, LinkedIn, Facebook, etc.
Another way is to distribute it to as many article directories as you can find. You should also send the article for consideration to ezine publishers within your field. Ezines are easy to find through one of the many ezine directories available on the Internet.
Advantages of article marketing
The most obvious advantages for article marketing would be highly effective and it's free
Writing and submitting articles allows you to build a mass number of back links to your site in a relatively small amount of time. This increases your search engine optimization while boosting your search engine rankings.
If you have a flair for writing, you should be able to express three to five hundred words with quality information and do it fast at no cost to you. This helps establish you as an expert and adds credibility to your name. This establishes trust within your readers and, in turn, creates more sales.
You will get the viral effect as you distribute one article at a time and it provides others with links to your website and increases traffic, trust, and credibility. Distributing articles on a regular basis will serve you well financially. You will most likely see a rise in the number of hits your website receives and increased revenue.
As long as you continue to produce quality articles that are informative and not selling anything, you will not go wrong with article marketing. These articles can contain product pitches but should never be pushy.
Disadvantages of article marketing
The first disadvantage would be your writing skills. Don't fret as this is not uncommon for most of us. You can research on other marketers' articles to get some ideas or get some course on article writing or blogging. Once you have started to write, you would have no problem writing for more.
You might find this task to be very time consuming. Then do it slowly and make a plan like writing one article once a month. Once you are comfortable in your writing, you can increase the frequency like once every 2 weeks. This is how I started out in the beginning and until today, I am still writing my articles for my site once every 2 weeks because of the time I have.
The other disadvantage is how time consuming it can be to submit them to article directories and ezine publishers. So, I would suggest that you share your article to the most popular social media networks like Twitter, Google, LinkedIn, Facebook, etc. first in the beginning. It takes lesser time with the Share buttons in WordPress or any social sharing plugins you have.
It is not that you do not submit articles to article directories or ezine publishers. But I find that this is not that easy for newbies to start out with. We will talk about this topic in another article.
By looking at the advantages we have, I believe article marketing is worth the time, money and effort that you put into it. So, go and start writing now for your niche that you are passion of.
Does this article help you or you have different opinion? I would like to have your comments.
| | |
| --- | --- |
| Please give us your rating | |