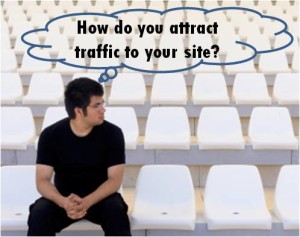 This is a very common question and had been asked many times by beginners. Because they need traffic as much as anyone. We need traffic for our blog, our landing pages, our website, etc. So how do you attract traffic to your site. I will share with you some of the methods I used plus other methods that were used by experienced marketers.
SEO
This is the first method I use when I started off as a beginner. I make use of the internet, the forums and comments on my site to create contents that are popular and interesting. Then making use of good keywords to attract organic traffic to my site. This might be slow but very effective. I learn this method at Wealthy Affiliate. It is an online training program that I have invested on.
Social media
Another way is to share my contents in Google+, Twitter, Facebook and LinkedIn. This is a very good way of attracting targeted visitors to my site. I urge you to follow this method as you can attract huge traffic. You can even network with anyone who like your contents.
Traffic Exchange
I am also making use of traffic exchanges to attract traffic to my site. Traffic exchange like EasyHits4U allows their subscribers to share articles with their members. Then place an anchor text to link them back to your site. Another traffic exchange like Hitlink has a stream for their members to post so I place a short description and my content URL in the post.
Also at both traffic exchanges, I advertise my site using the credits I work for or paid for. Although it may not attract a lot of targeted traffic, it is good place to build up your brand image.
Instant Blog Subscribers
This is another site I share my contents. I did not get a lot of traffic because as a free member, I can only send to 200 subscribers. Anyway, it is another way of attracting traffic to my site.
Above are my method to attract traffic to my site.
What are the method that experienced marketers used? Let's take a look.
Podcast
Other than contents as blogs or articles, you can produce or publish your contents as podcast. Some people do not like to read on a computer instead these people prefer listening to audio.
Video
Another popular way to attract traffic to your site is to run a YouTube channel for your podcast as YouTube is one of the largest search engines on the web. It is a great way to expose new audiences to your brand.
Guest post
Some will ask other websites of the same niche or top industry sites whether they can write guest posts for their blogs. Not only that you can get traffic from these sites – it's also a good way to build your perceived authority as well.
Interview with experts
You notice that some sites use this method to increase their viewership. People love hearing from experts so if you can snag an interview and publish it on your site/blog, you're in for a big surge of traffic from the existing audience of the authority.
There are many ways to attract traffic to your site if you search the internet. Just remember that to attract massive traffic, you need massive action before you can get massive result. You have to send enough traffic to differentiate your message from the masses. Whether you use free or paid advertising, this still holds true.
For your information, everyone that sees your site is not going to take action for the first time. As a matter of fact, you will most likely have a bounce rate of more than 90 per cent. This means that only 10 people out of 100 will stay on your site long enough to read the main titles.
By adding an interesting video, you can improve stickability by more than 33 per cent. And by adding interesting widgets, pictures and video and you can increase stickability by 50 to 75 per cent. Throw in a lead capture form with quality content and you will improve the likelihood of getting sign-ups instead of just visitors.
Not all traffic source suit everyone. You have to find the correct one that gives you the best result. Keep experiment with various traffic sources and use the one that suits you.
What are your method of attracting traffic to your blogs/sites? Hope that you can share with us by leaving your opinion in the below comment. Thanks for reading.
| | |
| --- | --- |
| Please give us your rating | |