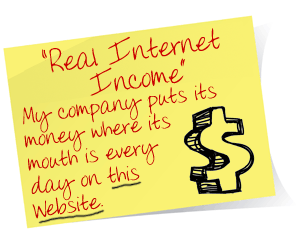 If you are looking for real internet income, SFI (Strong Future International) Marketing Group is the one that I would recommend. It is a legitimate business program which can help you build a profitable online business from the comfort of your home.
Who is SFI? It is an e-commerce company base in the US and has been around since 1985. It has an e-store called TripleClicks which has 98000+ products and services. It is somewhat similar to ClickBank or Amazon except that it has free trainings to help you in succeeding with your own business.
I joined SFI in Aug 2012. Then, I gone through its training called LaundPad for 30 days. It was sent to my inbox everyday so I won't miss it. At that time, I do not know how to make money with it as I am very new to internet marketing. I try to contact my sponsor but I could not get him so I have to explore it by myself.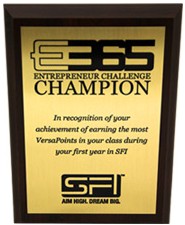 There is a free contest called Entrepreneur365 (E365) that is based on how many points you score. In SFI, their points are called VersaPoints (VP). All newcomers are automatically entered in this contest. You have a chance to win a share of over $100,000 in cash and prizes. There are 6 rounds for you to compete with those new affiliates who joined SFI the same day as you did. This contest lasts for one year (365 days as the name implies). The final round is the longest (335 days) and the most difficult because you need to beat the rest by accumulating the most VP in your class to win the title "E365 Champion". I did not complete the contest as I could not accumulate enough VP to get pass round 3.
How to make money in SFI?
There are 6 ways of making money in SFI.
1)  Direct commission
SFI's Direct Commission program is powerful because once you sign up a member or affiliate, they become your customer for life! SFI takes care of all order processing, product shipments, and customer service at no cost to you, and pays you a Direct Commission for every order placed by your members and affiliates for life! Beside that, you'll also earn all the VP on the order which you can earn additional shares of the TripleClicks Executive Pool!
2)  TripleClicks Executive Pool
This pool provides a simple, easy, and lucrative income stream that all SFI affiliates can tap into every month. SFI put 40% of the commission of every purchase from TripleClicks.com which is one of the fastest-growing e-commerce website in the world, into the TripleClicks Executive Pool for our affiliates to share in.
3)  Co-Sponsor Commission
One good thing about SFI is that you are automatically allotted 2 Co-Sponsored affiliates (CSA)each month if you attain the rank of Executive Affiliate (EA). So that, when each time a CSA places an order at TripleClicks, you earn a commission too.
4)  TCredit Bonus
TCredits allow you to take FULL advantage of your TripleClicks membership benefits and can also be used in many ways to build your SFI business. You will know the benefits when you are inside.
5)  ECA Referral Program
This is another income stream where you can earn VersaPoints and lucrative royalties for life. Just refer companies or affiliates to join the E-Commerce Associate (ECA) Program. It is basically a "store within a store".
6)  SFI Pay-Per-Action
SFI Pay-Per-Action (SFIPPA) is an optional, supplemental income program available to all SFI affiliates that allows you to act as an advertiser for SFI and earn supplemental income by getting others to take actions such as filling out forms.
Of course, you cannot make money alone. You need a team. With this in mind, SFI has established this simple 3-step plan.
The first step is to become Executive Affiliate (EA) so that you can start earning commission from its TripleClicks Executive Pool and many other compensation plans. The criteria to become EA is to collect 1500VP for the month by completing its daily, weekly and monthly tasks. You can achieve this in the first month when you join SFI. Thereafter, you need both effort and money to collect the 1500VP.
The second step is to build your team by recruiting 5 new members. As I do not have much experience in marketing SFI at that time, I decided to buy into its advertising co-op called S-Builder which will help me in getting new sign-ups. As promised, I got 3 new members into my team within one month. From there on, S-Builder has been one of my marketing tools to get people.
Then, the final step is duplication. That is to teach your team members to do what you have being doing. In this way, the team will grow and earn money together.
In SFI, you must be serious, determined, and hard working. Most affiliates can be serious and hard-working for the 1st month but not determined after the 1st month. Why? It is because some cannot collect enough free points and do not have funds to purchase products to make up the points. Of course, there are ways to get free points in the 2nd month and still be able to become EA2. Beyond that, you need to have funds to sustain this business whether it is from your pocket or from the commission through your sale of TripleClicks products.
Another challenge to note is to make your team member active whether they are affiliates or EAs. If not, you will not be able to grow your business and their business. So, communication with your team is very important and SFI has all the communication tools like team mailer, online chat, message box, for you to use.
So far, I am happy with SFI as I do see some result with my earnings since working as an Executive Affiliate to a Bronze Team Leader for the last 2 years. Although, the earning is not that fantastic yet but at least I can prove that you can make money online. I believe that I can make even more money in SFI if I can achieve higher Team Leader status in the long term.
My advise to anyone who are new to internet marketing and thinking of making money in SFI, need to be patient, persistent and committed. This is a long-term business and not those "get-rich-quick" scheme.
What do you think of this business opportunity? Leave your opinion on the comment box below.
| | |
| --- | --- |
| Please give us your rating | |